About
Get the next Level in Education
Announcing the 2021 Implantology Courses on *Fresh Human Cadavers with Ritter and VESTA
We're setting a new standard for education excellence so check out the syllabus in this link
SUMMARY
* 3 Day Course (2-4 September or 3-5 September 2021) 18 CE credits / 18 CPD Hours credits
* Venue – Medipol University Anatomy Lab, Istanbul
* 5 Star Hotel x 4 nights: Istanbul Marriott Hotel Sisli
* Advanced Implantology and Surgery Course
* Payment via Credit Card or wire transfer
* Course Language English
* Breakfast included
* Lunch included
* Course price 2279 EUR
Gala Dinner and certificate presentation @Lacivert Restaurant (on the ­ Bosphorus)
Ask about the BONUS for registration before 30 July
IMPORTANT: *Course is at RISK of being SOLD OUT!
*Course is in RISK of being SOLD OUT!
*Hotel subject to change based upon availability.
REGISTRATION PROCESS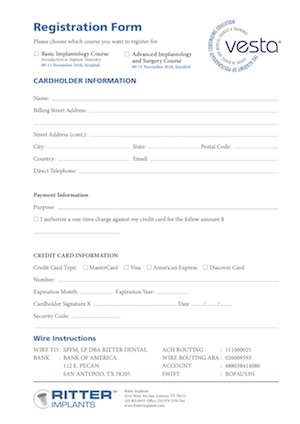 To be registered to the course, please download & print out the Registration Form, fill it in using blue or black ink and CAPITAL LETTERS. Then send the completed registration form to
[email protected]
or fax to +1-210-805-0236
You can make the payment via credit card or wire transfer.
For more informations, please contact
Mr. Leon Beaulieu
Vice President, International Ritter Implants
www.RitterImpants.com
+14157286601
Available @: FaceTime, Line, Messenger, Viber, WhatsApp.
SURGICAL TOPICS
Theoretical Session
• Outlining Advanced Course content and clearing up training objectives
• Difficult cases in implantology- prosthetic surgery and aesthetic challenges
• Implantation in aesthetic zone: Where, When, How?
• Bone defects that develops following tooth loss
• Bone healing, bone graft materials
• Membrane materials
• Guided bone regeneration
• Immediate implantation
• Simultaneous implant placement with bone augmentation.
• Managing inadequate bone cases
• Augmentation with autogenous bone grafts and block bone grafts
• Tomography from A to Z and case studies with tomography
• Particular region in implant treatment: The posterior maxilla
- Anatomy of the maxillary sinus
- Maxillary sinus lifting (open sinus lifting)
- Short implants
• The use of piezo-surgery devices in bone surgery
• The importance of the soft tissue in implantology
• Perioplastic surgery techniques
• When Flapless surgery? To what end?
• Peri-implantitis
Surgical Practice on Fresh Human Cadavers
• Dissection of anatomical danger zones in Mandible
• Nervus lingualis, Mandibular canal, Nervus alveolaris inferior
• Placing implant in Maxilla
• Double-layered flap technique
• Expansion of the alveolar bone crest
• Maxillary sinus elevation techniques
• Epithelial-connective tissue graft harvesting techniques from the palate
• Soft tissue management
• Suture techniques
PROSTHETIC TOPICS
Theoretical Session
• Complex cases in dental implantology
• Planning: Tomography assisted surgical guides
• Aesthetic of prosthesis in dental implantology
• Aesthetic evaluation and risk analysis
• What is the role of biomechanics in increasing the success of prosthetic treatment?
• Planning principles of implant-supported prothesis
• Strategies for complex cases in the clinic
• Procedures of screw-retained prosthesis
• When would we prefer cantilever dental implant bridges?
• Implant supported fixed prostheses and bridges in the edentulous mandible and maxilla
Prosthetic Practice on Plastic Jaw Models
• Impression techniques for implant dentistry on plastic jaw models
• Open and closed tray impressions techniques for fixed implant-supported protheses
• Placing implant analogs.
---
HIGHLIGHTS OF THE PREVIOUS COURSE
VESTA Academy and Knightsbridge Academy (KBAC) regularly organize dental implantology and surgery courses on fresh human cadavers for Ritter Implant user dentists. The courses are delivered by the lecturers of VESTA & KBAC in Istanbul and supported by Ritter International.
We cordially thank Dr Andy Dragus and his great team for creating this film. And special thanks to Leon Beaulieu #ritterimplants​ for great support and collaboration.
---
TESTIMONIAL
Dr Danijal Dzafic who is originally Bosnian but lives in Kuwait has participated in VESTA & Knightsbridge Academy Advanced Implantology Course in Istanbul. He kindly shares his honest feelings about the course with us.